Hear Steve Lacy: He's Something New
In the unique, double-sided tradition of Stevie Wonder's classical prowess of soul; Rick James's nasty and raw, rump-shaking smash hits, and the sex-tousled maximalism throne of Prince, check out the remarkable, creative, 10-song, tight sophomore studio album Gemini Rights, which was released July 15, 2022 by 24-year-old, Compton-born, R&B bad boy Steve Lacy.
Striking his own path in a state of rebellion, Lacy bid his farewell from the Bible Belt of Christianity and laced himself in the direction of a mercurial, effervescent, R&B romance—community, sex, and racial progress—into nodding terms of his queer identity, penning a confession of getting over a breakup and healing the conflict of his broken heart.
Steve Lacy's first solo single since 2017's "Dark Red," "Bad Habit" is a catchy, guitar-filled pop masterpiece that turned out to be America's improbable, number-one, chart-topping smash. It was as if student-run universities might have played it on rock radio stations in the '90s.
On the cute and jangly, boyish song, "Bad Habit" finds Lacy lovey-dovey, yet spilling out love-sick regret about not expressing his feelings with a pleading ultimatum—"Please say to me (please/just say to me) if you still want it/I wish you wouldn't play with me/I wanna know (I wanna know)" is sung in a tame, dreamy sauntering shade of Prince.
The song comes off as like a student at a high school senior prom who was just too afraid to approach a male passing fancy, only to closeted his feelings and be left lonesome. Now stuck inside of his own head while emotionally venting the fragile mind, dramatically pacing, marching, meandering, and musically roaming back-and-forth-and-somewhere-else on the dance floor, he then finds that love is not all that "biscuits and gravy."
But the successful swank of that damnably catchy swoon is not the only funk hit of great finesse that got rock star Lacy ecstatic throughout the airwaves; he created a shock of mainstream buzz, like the spirits in the material world, from the opening eject track, "Static." The track is intense, nearly self-sabotage in the ticket of a miserable, infatuated downfall. "Baby, you got something in your nose/Sniffin' that K, did you feel the hole? Hope you find peace for yourself/New boyfriend ain't gon' fill the void."
It's been an inescapable time for Lacy—the hard breakup of 2021 that he and his ex-boyfriend of seven months went through—Lacy, coupled with his ex, have struggled with unresolved wounds that couldn't bear the palm to bring around their hand in agreement to heal their ruptured relationship—and now the definitive pop star is opening up to address both the disparity and the worldly glitz and glamor of pop stardom.
Lacy's inner-battle with breakups on "Static" is a swaying back and forth double entendre; a harsh, resorted cocaine-taking of Ketamine as a coping mechanism to escape from the pain of their environment. While Lacy's unnamed ex-boyfriend continues to stay "static," the bisexual singer stays clear of all the noise and plays with the thought of wanting his next romance to be with a woman.
"Mercury" has a slick, left-field, Latin feel that passionately boasts as the album's most melodious inventive—diverse (let's say erotic) pop-bossa nova flavored arrangements. One could imagine a smooth collaboration with Michael Jackson's soulfully tranquil singing and Carlos Santana on the erotic composition.
Like latter-day efforts, Mercury seems to see Lacy mirroring a nostalgic trip back to the 1960s. Instead of a euphoric fiesta, Lacy is captured in yet another amuck, a remorseful and bittersweet, dysfunctional whirlwind as the double-sided chorus depicts, "Little of heaven, little unpleasant/Little of pleasure, little depression." In a moody bedroom slump of "I'm so sorry" texts, the lyrics are of an oxygen-hogging, damn-near-toxic relationship, but demonstrates the breadth of Lacy's lustprinzip artistry.
In his room of toxic vulnerability, Lacy, still a bit woozy from all the manipulation and being treated poorly, opens up a nerve on "Buttons" to confront his sly, selfish, and manipulative lover due to his last push-and-pull emotion. "Hey, you went away to save/Yourself from all the rain/And then I picked you up/And then I showed you love/And then we talked/Let our guards down." Though he's expressing his everlasting love for the person who had hurt him, enjoying himself in a luxurious way, the emotional maturity of his pride has allowed him to learn from his mistakes and not succumb to being taken advantage of by the same tricks thrice.
Lacy's "Sunshine" reiterates vainglory, a record of burning confession between an old flame who used to be in a romantic relationship. Expressed with ear-magnetizing melodies, and a soulful and beautifully orchestrated rapture, Lacy is soon caught up in the sylphlike sky with New Jersey-raised songstress and friend, Fousheé; much like the Beatles during their January 30, 1969, rooftop concert of 'Don't Let Me Down.'
In excessive vanity, Steve, in a hasty attempt to defuse and pluck the push-and-pull emotions on a slick, swaggering guitar, addresses his ex-lover harshly: "Sayin', My ex, like my name ain't Steve/Gave you a chance and some dopamine/Safe to say, after me you peaked/Still I'll give you dick anytime you need." She, Fousheé, suspended high above him on a cable that's dangling from a crane, is unfazed while delivering a positive contrariwise message: "I admit that I wasn't lost/You're takin' it just as hard/Criticize me all you want/But I'm always gonna be where you are."
Apart from pretending that he's not emotionally invested, by the end of the ballad, Lacy, in a Rapunzel-esq. gorgeous-and-groove fairytale, finally reached his rope and climbs up to admit in a revived encounter, a beautiful realization that he does still love her.
Here is a new talent breaking pop star rules that deserves your attention. Through Lacy may not have moves like Michael Jackson, he has his own bottomless pockets of purpose, emptying the sounds and themes as a motley, multi-faceted musician. He is an artist who is relentless in hitting people on multiple levels, inspiring a cult following of online-inflected fans around him, and gaining recognition as the guitarist of alternative rhythm and blues band, the Internet.
Lacy continues to cement his legacy, producing crowd-pullers for several artists, including Kendrick Lamar, Tyler the Creator, and Ye (formerly known as Kanye West. All in the traverse before his wondrous solo career took off, a gallivant much like his tour "Give You the World" was heard around the globe.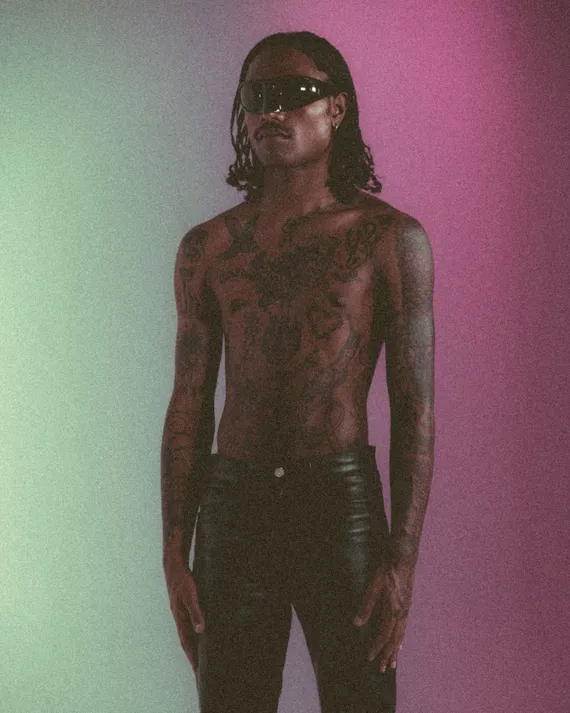 Gemini Rights may not be Steve Lacy's overtly sexed-up, '79 version of the self-titled eponymous album Prince with the post-disco classic "I Wanna Be Your Lover," but it most certainly comes close, a fallen-away Christian who was once brought up in church is now unrepentant and losing his religion. He sexually experiences breakups, freak-outs, and sexuality struggles in his Batman-monsieur, masking signature shades (like a Detective Comic antihero) whilst stunting at a high speed chase of rock stardom, even as the night fades, welcoming the dawn. Try Steve Lacy. The sexed-up, definitive pop star with a "bad habit." He's something new.